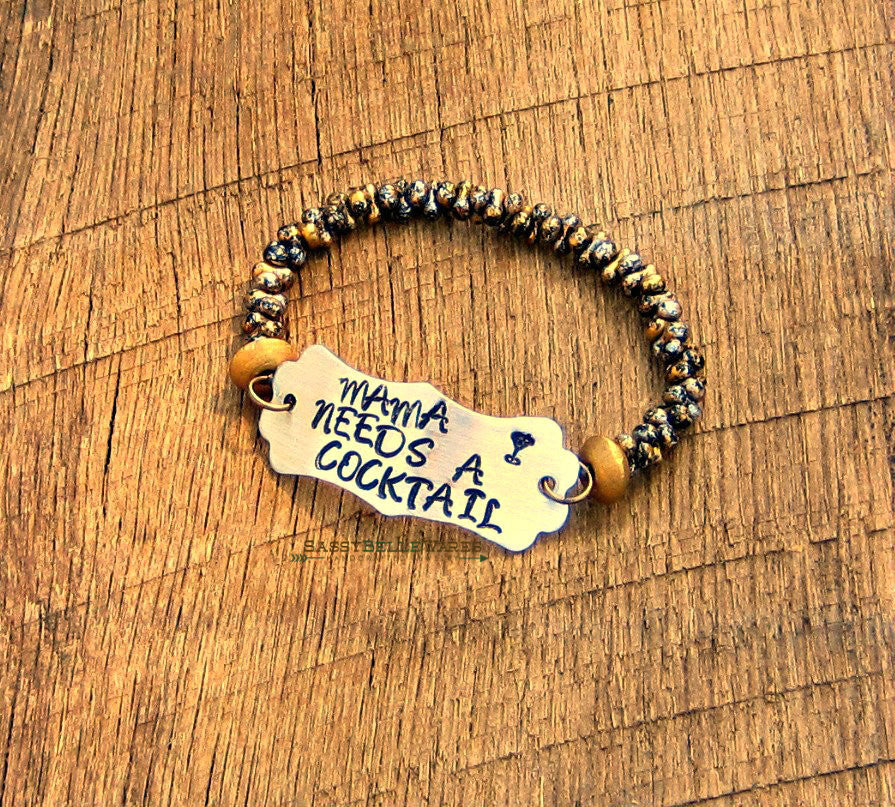 SassyBelleWares
Mama Needs a Cocktail Bracelet
Mama Needs A Cocktail - amen to that! This bracelet will definitely add a touch of sass and fun to any outfit!
The words "mama needs a cocktail" are hand stamped on a 1.95" x .75" aluminum piece that has a brushed silver finish. The black, silver and gold Czech glass beads are 3x6mm. The two gold wood end beads are 10mm.
The bracelet is made with soft elastic cord that will stretch. You choose the size at checkout (7" is considered standard size for women).
Choose between the words cocktail and martini AND with or without the martini glass image.
Due to the handmade nature of this bracelet no two will be exactly alike and your piece will be uniquely yours! Your piece will be very similar to the photos but not exact. Differences may be but are not limited to one or more of the following:
- each will have its own distressed markings and patina
- letter and shape/symbol placement will vary
- the beads will be very similar coming from the same lots but may vary in placement order, shapes, colors, and patterns
Each piece is hand stamped and made to order for you. Letters, numbers, and/or symbols may not be lined up perfectly. Letters, numbers, and/or symbols may have a deeper hammer strike than others. This gives your piece a one of a kind character as opposed to identical mass produced items. I hope you enjoy your unique piece as much as I have enjoyed creating it for you!
---
Share this Product
---
More from this collection